RomeWar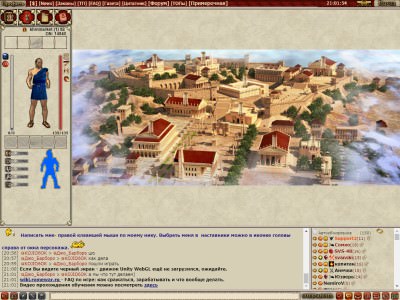 RomeWar is a browser-based game in which the era of the Roman Empire and the best mechanics of the genre of strategy and RPG are successfully interwoven. Whether you fight on the side of a powerful Empire or take the side of the rebellious Gauls - it's up to you!
Our story begins with the choice of race, each of which has its own advantages. So, for example, the Romans - fast and agile, perfectly repel attacks, and the Gauls - perfectly master magic. Next, we will plunge headlong into the tactics of warfare. It is noteworthy that in battles both 3D and 2D graphics are presented. At the same time, you yourself choose in what form it is more convenient for you to conduct a battle.
Do not forget that in the game, in addition to you, there are other political and military forces represented by other players. On the world stage there are many of their associations - legions and clans, which support their allies. It is in your interests to make powerful friends as soon as possible.
By the way, once a month clan tournaments are held in the game. The first tournament is held among races and lasts three days. And the second tournament is a large-scale confrontation between Gaul and Rome. Of course, winners receive generous prizes.
In addition to the military component, economic development plays a crucial role. Having earned a few denarii and talents, you can buy everything you need and greatly increase your strength. The game also has an extensive list of professions.
Game Features:
Extensive social component. You can even play a wedding!
Turn-based battles
Old school graphics
Many cities and castles
Siege and Clan Wars