Mini Farm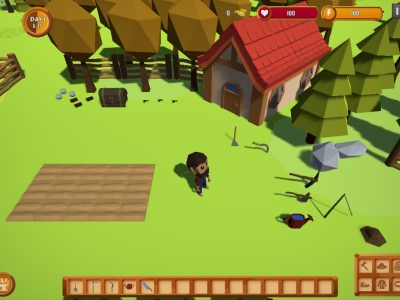 Mini Farm is an incredibly addictive game with a huge open world that will provide you with many unique opportunities to grow your farming business! Expand your holdings and become a real land tycoon to transform a small country ranch into the largest farmland! In addition to the cyclical change of day and night, the game will also pleasantly surprise you with an advanced system of crafting various items, for example: agricultural supplies, weapons, clothes and much more. Promote your farm to prosper, grow crops, care for animals and trade to increase your profits!
How to play?
Explore the location looking for resources to build new buildings, as well as make all kinds of furniture. Chop trees, mine building materials, collect sheep wool and cow's milk to sell in the market.
After dusk, we recommend that you light a torch and make some kind of weapon in order to be able to fend off a sudden attack of wild animals. Find all the hidden treasure chests so that you can use the money to buy more different animals in the store, such as chickens, pigs, rabbits and others. To quickly move around the map, use your racehorse.
In addition to all of the above, you can also go fishing to the nearest body of water to fish for delicious meals. Eating wholesome food restores your energy and health. Remember to save your progress after completing a game session. Good luck!